It helps to think in terms of groups of three zeros
Have you ever wondered what number comes after a trillion?
你有没有想过万亿之后的数字是多少?
Or how many zeros there are in a vigintillion? Some day you might need to know this for a science or math class, or if you happen to enter one of several mathematical or scientific fields.
或者在一个 vigintillion 中有多少个零? 有一天,你可能需要知道这个科学计数法,或者你碰巧需要进入几个数学或科学领域。
Numbers Bigger Than a Trillion 数字大于万亿
The digit zero plays an important role as you count very large numbers. It helps to track these multiples of 10 because the larger the number is, the more zeros are needed.
数字零在您计算非常大的数字时起着重要作用。 它有助于跟踪10的倍数,因为数字越大,需要的零越多
5 (1,000,000,000,000,000)

6 (1,000,000,000,000,000,000)

7 (1,000,000,000,000,000,000,000)

8 (1,000,000,000,000,000,000,000,000)
Grouping Zeros by Threes 按三个零分组
Many people find it easy to understand that the number 10 has one zero, 100 has two zeros, and 1,000 has three zeros. These numbers are used all the time in daily living, whether it is dealing with money or counting something as simple as our music playlist or the mileage on our cars.
When you get to million, billion, and trillion, things become a little more complicated. How many zeros come after the one in a trillion? It's hard to keep track of that and count each individual zero, so these long numbers have been broken down into groups of three zeros.
For example, it's much easier to remember that a trillion is written with four sets of three zeros than it is to count out 12 separate zeros. While you might think that one's pretty simple, just wait until you have to count 27 zeros for an octillion or 303 zeros for a centillion. Then you will be thankful that you only have to remember 9 and 101 sets of three zeros, respectively.
许多人发现很容易理解数字10有一个零,100有两个零,1000有三个零。 这些数字在日常生活中一直被使用,无论是处理金钱还是计算像我们的音乐播放列表或我们汽车上的里程一样简单的东西。
当你达到百万,十亿和万亿时,事情变得有点复杂。 一万亿分之一后有多少个零? 很难跟踪并计算每个零,因此这些长数字被分解为三个零的组。
例如,更容易记住万亿是用四组三个零写的,而不是计算12个独立的零。 虽然你可能认为一个非常简单,但是等到你需要为一个octillion计算27个零或为一个centillion计算303个零。 那么你会感激你只需要分别记住9和101组三个零。
Powers of 10 Shortcut 10快捷方式的好处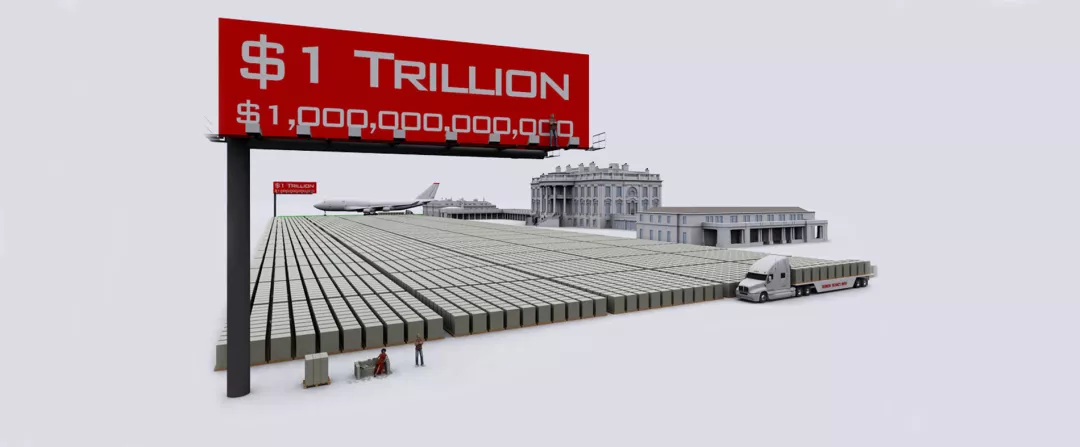 In mathematics and science, you can rely on the "powers of 10" to quickly express exactly how many zeros are needed for these larger numbers. For example, a shortcut for writing out a trillion is 1012 (10 to the power of 12). The 12 indicates that the number needs a total of 12 zeros.
You can see how much easier these are to read than if there were just a bunch of zeros:
Quintillion = 1018 or 1,000,000,000,000,000,000

Decillion = 1033 or 1,000,000,000,000,000,000,000,000,000,000,000
在数学和科学中,你可以依靠"10的幂"来快速准确地表达这些较大数字需要多少个零。 例如,写出万亿的快捷方式是1012(10到10的幂)。 12表示该数字总共需要12个零。
您可以看到这些内容比只有一堆零更容易阅读
Googol and Googolplex: The Enormous Numbers Googol和Googolplex:巨大的数字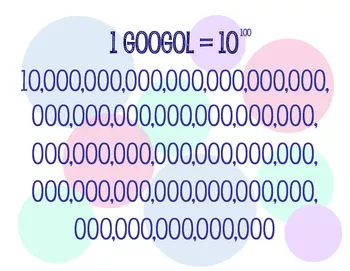 You are probably very familiar with the search engine and tech company Google. Did you know that the name was inspired by another very large number? Though the spelling is different, the googol and the googolplex played a role in the naming of the tech giant.
您可能对搜索引擎和科技公司Google非常熟悉。您是否知道该名称的灵感来自另一个非常大的数字?虽然拼写不同,但googol和googolplex在科技巨头的命名中发挥了作用。
A googol has 100 zeros and is expressed as 10100. It is often used to express any large quantity, even though it is a quantifiable number. It makes sense that the largest search engine that pulls a large quantity of data from the Internet would find this word useful.
一个googol有100个零,表示为10100.它通常用于表示任何大量,即使它是一个可量化的数字。有意义的是,从互联网上获取大量数据的最大搜索引擎会发现这个词很有用。
The term googol was coined by the American mathematician Edward Kasner in his 1940 book, "Mathematics and the Imagination." The story goes that Kasner asked his then 9-year-old nephew, Milton Sirotta, what to name this ridiculously long number. Sirotta came up with googol.
googol这个词是由美国数学家爱德华·卡斯纳(Edward Kasner)在他1940年的着作"数学和想象力"中创造的。据报道,卡斯纳问他当时9岁的侄子米尔顿·西罗塔(Milton Sirotta),用这个可笑的长号来命名。 Sirotta想出了googol。
But why is a googol important if it's actually less than a centillion? Quite simply, a googol is used to define a googoolplex. A googolplex is 10 to the power of googol, a number that boggles the mind. In fact, a googolplex is so large that there's really no known use for it. Some say that it even exceeds the total number of atoms in the universe.
但是,如果googol实际上不到一公升,为什么googol很重要呢?很简单,googol用于定义googoolplex。 googolplex是googol的力量,这个数字令人难以置信。事实上,googolplex是如此之大,以至于它真的没有用处。有人说它甚至超过了宇宙中的原子总数。
The googolplex is not even the largest number defined to date. Mathematicians and scientists have also devised "Graham's number" and "Skewes number." Both of these require a math degree to even begin to understand.
googolplex甚至不是迄今为止定义的最大数字。数学家和科学家们还设计了"格雷厄姆数"和"偏斜数"。这两个都要求数学学位甚至开始理解。
Short and Long Scales of a Billion 数十亿的短期和长期规模
If you thought the concept of a googolplex is tricky, some people cannot even agree on what defines a billion.
如果你认为googolplex的概念很棘手,有些人甚至不能就定义十亿的定义达成一致。
In the U.S. and most of the world, it is accepted that 1 billion equals 1,000 million. It is written as 1,000,000,000 or 109. This number is used often in science and finance, and it is called the "short scale."
在美国和世界大部分地区,人们认为10亿等于10亿。 它写成1,000,000,000或109.这个数字经常用于科学和金融,它被称为"短期规模"。
In the "long scale," 1 billion is equal to 1 million million. For this number, you will need a 1 followed by 12 zeros: 1,000,000,000,000 or 1012. The long scale was first described by Genevieve Guitel in 1975. It is used in France and, for a time, was accepted in the United Kingdom as well.
在"长期规模"中,10亿等于100万。 对于这个数字,你将需要一个1,然后是12个零:1,000,000,000,000或1012.长尺度最初由Genevieve Guitel在1975年描述。它在法国使用,并且一度也在英国被接受。